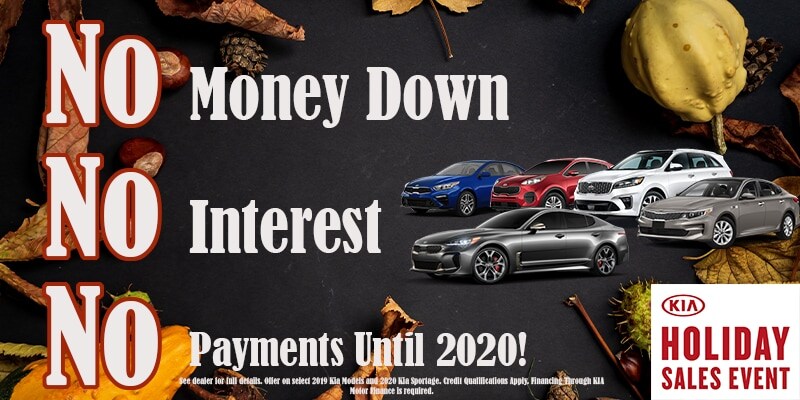 Holiday Sales Event Specials Announced at Car Town KIA USA
The holiday sales specials have been announced at Car Town KIA USA. If you are looking for car dealership holiday specials in Lexington, KY or car dealership specials in Nicholasville, KY, then you will find the best deals of the holiday season at Car Town KIA USA in Nicholasville. We have announced some incredible Kia lease specials, no down payment specials, no interest specials, and no payments until 2020! Continue reading for more information on each of these incredible offers.
$0 Down, $199 per month on a 2020 Kia Forte
That's right; for $0 down and only $199 per month, you can drive home a brand new 2020 Kia Forte! There aren't many places you can go where you can drive away a brand new car for under $200 per month, but Car Town KIA USA has got you covered. This special is an incredible lease special, giving you 10,000 miles per year for 36 months! The 2020 Kia Forte has a sleek and sporty design, boasts a 5 star safety rating, and comes equipped with a touch screen display, lane keeping assist technology and much more!
No Money Down, No Interest, No Payments Until 2020
Car Town KIA USA presents our "No, No, No" sale. That's no money down, no interest and no payments due until 2020! This applies to select 2019 brand new Kia models and select 2020 Kia Sportages. Not only are we offering 0% APR for 66 months, but we are also adding up to an additional $2,000 in rebates on those vehicles! Just imagine how happy your loved one will be seeing a brand new Kia in their driveway!
We may be running the "No, No, No" sale, but our finance specialists want to say "Yes, Yes, Yes". "Yes" to approved financing for less than perfect credit, "Yes" to approved financing if you have previous repossessions, and "Yes" to anyone in a unique situation! Fill out our finance application and get approved today!
We Want Your Trade! Up to $6,000 Over Book Value For Your Trade!
You heard right; we are offering our customers up to $6,000 over book value for your trade this month! Select new Kia models on our lot make it possible for us to over-allow for your trade to make sure you get the best deal possible and drive away a happy customer! We are the top rated Kia dealer in Kentucky for a reason, and this special is only one of many reasons you should buy your next car, truck, SUV or van at Car Town KIA USA in Nicholasville!
Pre-Owned Special: $88 Down Delivers!
This month at Car Town KIA USA, we have discounted all our pre-owned vehicles and are proud to announce that you can drive away for only $88 Down! Are you looking for a used car in Lexington, KY, a used car in Nicholasville, KY, a used car in Frankfort, KY or surrounding areas? We have an extensive selection of all makes and models and everything from cars, trucks, vans, SUVs, hatchbacks and more! Looking for a used Kia, used Toyota, used Chevrolet, Buick, GMC, Dodge, Honda? We've got you covered!
Come on out and see us for our Holiday Sales Events at your top rated dealer on Nicholasville road! Call us today at 1-866-375-8802 and browse our inventory of new Kias or all of our pre-owned vehicles!